Massages and relaxation – that's what the second gameplay pack for The Sims 4 promises . The Sims 4: Spa Day is all about your Sims' inner peace. Whether you're relaxing with yoga, taking a mud bath, or relieving any last tense muscles with a massage, the gameplay pack will help you unwind. We've summarized all the information about the game for you on this page, so you know exactly what to expect from the Sims in mid-July.
Your Sims will have access to a new lot that will come in four different flavors: a Spa
At the Spa, your Sims as young as teens can treat themselves to one of six massages:

aromatherapy massage
Hot stone massage
deep tissue massage
sports massage
Swedish massage
fertility massage

The fertility massage increases the chance of twins and triplets
Your Sims can also relax in the sauna or enjoy a mud bath

These two things can be used from childhood
Pamper Your Sims!
Treat your Sims to a day of pampering with The Sims 4 Spa Day. Visit the all-new Perfect Balance Spa for a revitalizing massage, or work on the all-new Wellness skill with some yoga. After a relaxing mud bath, step into the sauna to melt away the daily stresses. You'll also get a variety of all-new objects and décor, so you can pack your home with so much tranquility that your Sims can't help but find their inner peace!
KEY FEATURES
All-new Venue: Perfect Balance Spa – This all-new venue offers a calm and welcoming atmosphere, filled with unique activities and amenities that will surely re-energize even the most stressed Sim. Choose from four pre-built venues or build one of your very own.
Focus on Wellness – With the new Wellness skill, Sims can become masters of their mind, body and emotions. As your Sims improve this new skill through yoga and meditation, they will unlock power of levitation and teleportation!
Massage. Steam. Unwind. – From reflexology to stone massage, your Sims can now receive and give a variety of massages that offer a range of benefits. Kick back and unwind in the all-new sauna while mischievous Sims can pull a smelly prank or two.
Slip into Comfort – Your Sims will not have to sacrifice style for comfort with the new collection of stylishly casual loungewear and effortless hairstyles.
Build in Zen ways – Add a mud bath and install a new tropical fish aquarium. Bring all the relaxing amenities and furnishings into your Sim's home!
NEW REFRESH KEY FEATURES
Visit the Spa – New trait incoming! High Maintenance Sims may struggle with trivial things, but visiting the Spa can lead to catharsis and let you relax those troubles away.
Focus on Wellness – Don't forget to invite the kids (yup, kids can now participate in Wellness activities). Plus, earn a few extra Simoleons by teaching other Sims how to find control through mindfulness. Additionally, take your Wellness to the next level and aspire to be a Zen Guru or a Self-Care Specialist.
Pamper Yourself – Finish up unwinding with manicures, pedicures, and facial masks. And with the new aspiration, Sims seeking Inner Peace will want to pamper themselves more than ever. Ahhh, perfection.
Express Yourself in Comfort – We're supporting nails now! New nail colors, designs, and shapes let Sims show off their style and individuality.
New features
New gameplay objects
Aquarium
Incense
Massage chairs
Massage tables
Meditation stools
Mini-fridge
Sauna
Yoga mats
New trait
High maintenance – These Sims require extra work to keep in good condition. Their problems sometimes appear trivial, and may even appear out of the blue. These struggles can be remedied through mindful habits, which puts them in a state of catharsis.
New aspirations
Inner Peace (Wellness) – This Sim is on quest to achieve Inner Peace. Although true harmony is sometimes ephemeral, what's important is developing tools to help mitigate negative emotions.

Practice Mindfulness · Seek Relaxation · Find Peaceful Surroundings · Maintain Harmony

Self-Care Specialist (Wellness) – This Sim wants to make it big with monetizing Wellness activities like offering Manicures or Tending the Massage Table at Spa.

Hustle · Gain Self-Care Notoriety · Become a Spa Regular · Maintain a Regular Customer

Zen Guru (Wellness) – This sim wants to share their mastery of Wellness with the world, and train a successor to pass on their knowledge.

Comfort Others · Guide Others · Share Detox Tea · Become a Master Wellness Teacher
New gameplay mechanics
Spa Day introduces a new wellness skill, which can help Sims relieve stress and gain new abilities. Sims can build the skill by practicing yoga or meditation and increasing the skill enables the Sim to do more poses in yoga, and unlocks more interactions with all Spa activities. Wellness is also great to develop in the brand new Spa Lot assignment, which is the main feature of this game pack. Sims can visit the Spa for a revitalizing massage, or work on the new skill with some yoga. Taking relaxing mud baths, saunas, and massages are available at this lot and at home. Developing the wellness skill also unlocks new food and drink recipes.
Sims can now take hand and foot massages with the new massage chair wherever they like. Massages can leave Sims with either a positive or negative moodlet. Along with the massages are mud baths and body soaks, a new way for Sims to relive their stress. They can be taken in every kind of bathtub in any type of lot.
Saunas are also returning in Spa Day. Saunas can be placed any type of lot and are another great way for Sims to relive their stress and relax. Along with these saunas, there is a new death by sauna. Saunas are also a new WooHoo location.
Yoga returns for Sims to develop. Yoga mats are new objects that can be purchased in buy mode and can be used everywhere. In the spa lots, there are yoga classes that Sims can take part in, if wanted.
Aquariums return from the previous games in this pack as well. Sims can catch or buy fish and put them into the aquarium for other Sims to view. With aquariums, new fish has been added to the fish collection.
There is a brand new Radio Station called "New Age", which is perfect for Sims who are meditating and doing yoga.
Over 100 buy and build mode items are introduced in Spa Day, for building the perfect spa, along with new clothes, with the style being spa and sports related.
Music
New Age
The Unicorn Hunter – Into The Crystal
The Unicorn Hunter – Tears Of The Dolphin Dream
The Dawn of Dar – Stardust Temple
The Dawn of Dar – Moonbeam Beach
Crystal Paws – Simfinity
Crystal Paws – Temporal Tonic
Valhalla Von – Another Solar Visitation
Valhalla Von – Ashwagandha Air Cycle
Create A Sim Items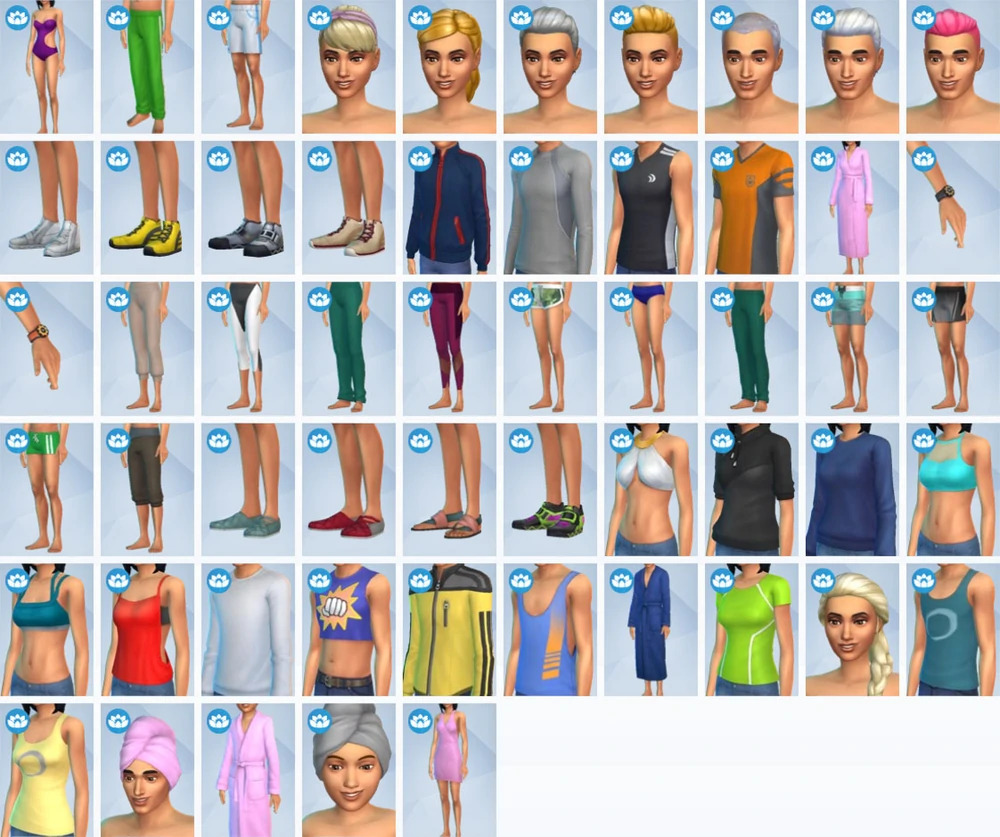 Build Mode Items